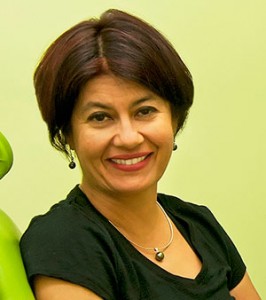 Dr. Preety Desai has over 12 years of postgraduate training and has called Kamloops her home now since 1996. She attended the University of Toronto and received her dental degree from the prestigious McGill University and then chose to spend an extra year at the world famous Hospital for Sick Children in Toronto as an dental resident treating medically compromised children along with Hugh McMillan Medical Centre and Bloorview Children hospital. She then practiced as a general dentist for 3 years subsequently in private practice in Toronto – in addition to the Department of Public Health treating underprivileged children and also worked in retirement homes for the aged and disabled. She has also spent many months in Northern Ontario (Sioux Lookout) working as the dentist on staff at many first nations reserves.
After 3 years of general practice, she chose to specialize in Periodontics at the University of British Columbia in Vancouver, BC Canada. After graduation in 1995, Dr Desai and her husband loved British Columbia so much that they chose to settle in Kamloops, BC in order to raise their two active sons.
Dr. Desai has organized and participated in numerous continuing education courses on various topics related to periodontics and dental implants. She is a published author in Periodontics and Laser Periodontal Surgery.
Dr. Desai has rebuilt a new eco friendly office in 2012 and it is worth seeing!
Some ecological efficiencies include use of a dry compressor – saving Kamloops 75000 gallons of water per year and the greenest products which are more friendly to the longevity of our earth. Dr. Desai's office is mindful of our care and attention to our community and planet. But most of all her patient's overall health.
Dr. Desai has surrounded herself with an excellent and attentive staff that are committed to quality patient care. She is passionate about keeping up with the latest and best practices available in her specialty field. Dr. Desai was the first periodontist in Canada to implement laser surgery into her specialty practice. She has become the only periodontist in Canada to obtain a Masters Degree in Laser Dentistry, obtained in 2016, and now does all surgery with laser technology.
On a personal note, Dr. Desai enjoys spending time with her family, traveling, cooking and practicing yoga. She is currently attempting golf but realizes no LPGA is in her future!
Video: Why Did You Set Up in Kamloops: